A Success Story Built on Satisfied Clients
Everyone wants a well-manicured property, but many people don't have the time, interest or energy required to maintain their lawn, shrubbery and planting beds. That's why, since our founding in 1980, residents throughout central Pennsylvania have turned to Lawnscape LTD for a full span of lawn care, landscape and hardscape services.
"Our goal is to maintain each property as if it were our own, and I truly believe our clients sense that," says Owner/Founder Drew Tomlinson. "We aim to treat each client and each of their properties with the respect they deserve."
This client-centered approach has helped Drew, a 1979 Penn State graduate and Huntingdon area resident, build Lawnscape LTD from a one-man operation at its inception to a thriving business employing more than 30 full-time seasonal workers. This experienced team offers lawn maintenance, landscape design and installation, retaining wall construction, brick paver installation and snow removal - all with an eye toward making each property as attractive as it can be.
Jason Boyer – Vice President of Operations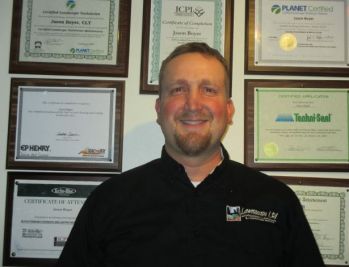 Jason Boyer, Vice President, has been a member of our staff since his summer employment with our organization in 2001. Following his 2003 graduation from Juniata College with a degree in Chemistry, Jason worked briefly in his field before returning to Lawnscape LTD where his true passion for the outdoors could be realized. In addition to overseeing daily operations, Jason has nicely grown our hardscape division to account for a significant part of our annual sales. Both his sales approach and hands-on knowledge of the industry can be attributed to this success. Jason's hobbies include a pretty decent golf game (1 handicap) as well as an accomplished hunter and outdoorsman. After a busy day at Lawnscape LTD, Jason is welcomed home by his wife, Megan, and his twins, Knox and Taylor.
Certified Landscape Technician
Licensed Pesticide Applicator
Certified Seal N' Lock Applicator
NCMA Certified Retaining Wall Installer
ICPI Certified Concrete Paver Installer
Certified Low Voltage Lighting Installer 
814 571 8686
Jason@lawnscapeltd.com
 


Jared Adams, Hardscape Field Manager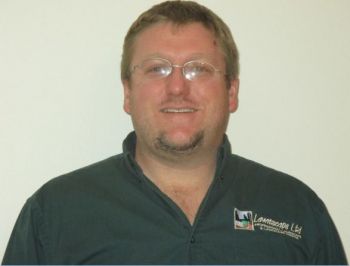 Jared Adams has been a valued employee of Lawnscape LTD for the past eleven years. Jared's responsibilities include overseeing all aspects of the Hardscape Division and directing our employee continuing education. Jared is a 1997 Landscape/Nursery Technology graduate of the Pennsylvania College of Technology and has 24 years' experience in the landscape constructions industry. He is an avid supporter of the Penn State Football program, including a long string of bowl experiences.
Certified Landscape Technician
Pennsylvania Certified Horticulturist
Licensed Pesticide Applicator
Certified Seal N' Lock Applicator
NCMA Certified Retaining Wall Installer
ICPI Certified Concrete Paver Installer
Certified Low Voltage Lighting Installer
814 571 7859
Jared@lawnscapeltd.com
 


Jackie Patterson – Hardscape Designer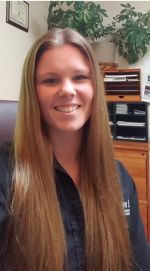 Jackie Patterson is a Landscape Architecture graduate from The Pennsylvania State University. Jackie is responsible for Lawnscape Ltd.'s hardscape design including patios, retaining walls, walkways, fire pits and more. After graduating from Penn State, Jackie now permanently resides in the State College area. She enjoys hiking and the outdoors with her boyfriend and two dogs as well as the local music scene around town.

NCMA Certified Retaining Wall Installer
Jackie@lawnscapeltd.com
Daniel Weidel – Maintenance Coordinator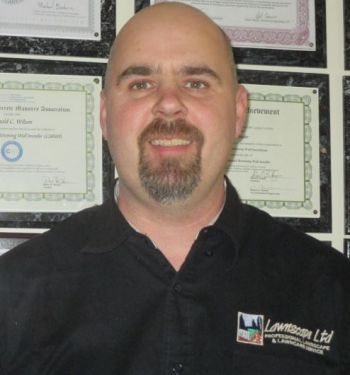 Daniel Weidel has been part of the Lawnscape LTD team since 2009. During this time he has been a valued member of both the Landscape and Hardscape divisions. Daniel was promoted to Maintenance Coordinator in 2015 where he is responsible for overseeing all landscape maintenance and winter maintenance projects within the company. Dan is welcomed home by his wife Tammy and his six children Brittany, Daniel, Abigail, Jeremiah, Molly and Isaiah. Daniel is a big Pittsburgh Steelers and Pirates fan and enjoys hunting, fishing and camping with his family.
Certified Landscape Technician
NCMA Certified Retaining Wall Installer
ICPI Certified Concrete Paver Installer

814-571-4251

Dan@lawnscapeltd.com